Congradulations to MACV for 10 years of service to our Veterans Services community.


VSC & MACV's Commemorative Challenge Coins celebrating the 10th Anniversary of the Mayors' Veterans Appreciation Day event are now available at VSC, MACV meetings, or online. Please visit our Donate Page to place your order for immediate delivery. Thank You.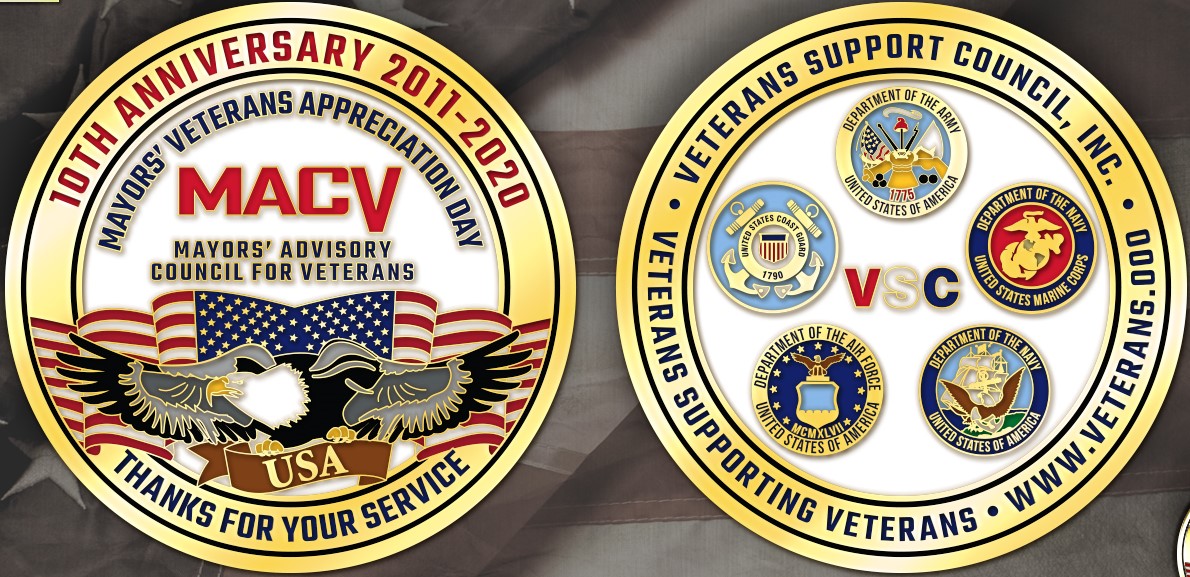 ---
"On the battlefield, the military pledges to leave no Soldier behind. As a Nation, let it be our pledge that when they return home, we leave no Veteran behind"..... | Dan Lipinski said it, and VSC and its Partners thrives to keep that pledge!
---
After You Help Support Us

We Want to Welcome You Home & Thank You For Your Service

Then, We'll Help Support You
Get Notices of Upcoming Meetings, Events & News sent to your In-Box
Who We Are

VSC's Information
MACV's Information
---
VSC, partnering with MACV, seeks to Partner with Veteran Service Organizations, and Community Service Providers that offer all types of help to our Veterans, Military and their Families, help that will secure the vital resources they need and are entitled to for their service to our country.
VSC also Promotes Awareness of All Veterans Issues, encouraging Communities, Veteran Service Organizations, Service Providers and Media Outlets to get more involved in helping inform our Veteran and Military Community about goods, services, programs and benefits that are available to them in their communities.
VSC's website lists local, state, and federal organizations that offer our Veterans, Military and their Families; the goods, services, programs and the benefits they have earned.
VSC Partnered with MACV in 2014, making VSC the official sponsor, fundraiser, and promoter of the annual Mayors' Veterans Appreciation Day event.

Starting in 2021 the Mayors' Veterans Appreciation Day event will invite Veterans Service Providers, Veterans, Military and their Families from all the Central Indiana counties to participate with us at the Marion County Fairgrounds with the city of Indianapolis being the Hosting City.

VSC is looking to Partner with other Communities and Veteran Service Organizations to better serve and support our Veteran and Military population.
MACV is a Marion County networking organization made up of local Veteran Service Providers, Veteran-focused, and Veteran owned business that meets monthly to plan on how to better serve our Veteran and Military community.
MACV advises the Marion County Mayors and Town Managers on the needs of the Veteran community.
Together, VSC and MACV's mission is to better serve and inform our Veterans, Military Community, and Government Officials.
---
VSC & MACV Events
---
Awards & Achievements
---
---
Your name, logo & link could be here for 12 months and have an exclusive on all TV, Radio, Media Ads & Billboards for $25,000
---
Your name, logo & link could be here for 12 months for $5,000
---
Your name, logo & link could be here for




12 months for $2,500
---
---
---
AMERICA is the Land of the Free, Because of the Brave
---
All Gave Some, Some Gave All
---
Words to Live by:
Honor-Courage-Commitment

Peace through Strength

Attitude is Everything

Freedom Is Never Free

God-Family-Country

Duty-Honor-Country

Honor Before Glory

Believe in Yourself

Service Before Self

Be All You Can Be

Trust But Verify

Integrity First

Never GIve Up

Stay Strong

Aim High

---

"Ask not what your country can do for you, but what you can do for your country." - John F. Kennedy

---

"There is NO LIMIT to the amount of good you can do if you don't care who gets the credit." - Ronald Reagan

---

"A woman is like a tea bag - you can't tell how strong she is until you put her in hot water." - Eleanor Roosevelt

---

"We make a living by what we get. We make a life by what we give." - Winston Churchill

---